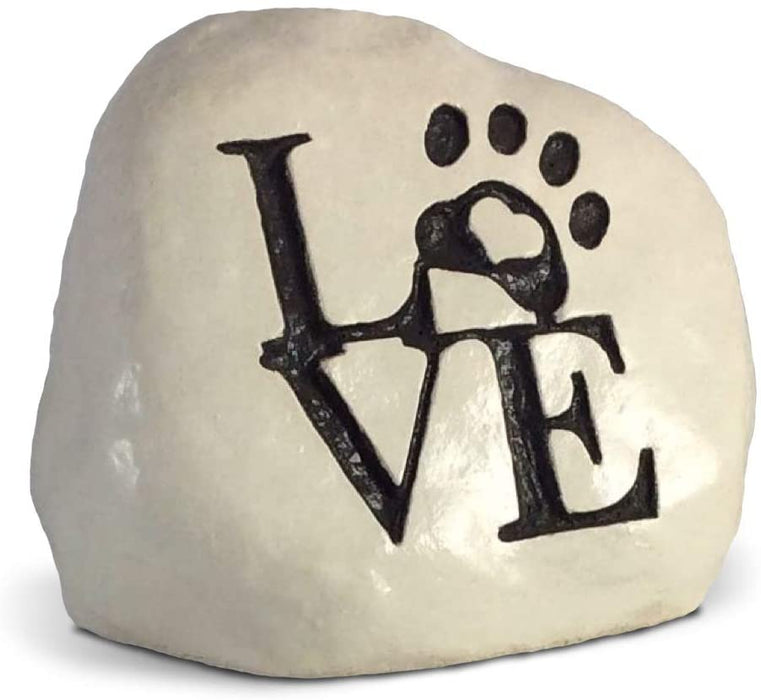 Engraved Love and a Paw Print in a Heavy Little Rock - Sympathy Gift
It is super strong and will last outdoors. The engraved portions of the rocks are colored by mixing dry iron oxide pigments, a cement-type material called "scraping" combined with an acrylic copolymer.
This stuff is durable enough to withstand the harshest of weather and will not peel off or fade like paint tends to do in time. Finally, the rocks are sealed with a thick layer of acrylic sealer which gives the rock a semi-gloss appearance.
SOLID cast in stone. NOT plastic or resin
SUPER STRONG cement base paste paint for engraved portion. It will last outdoors.
CRINKLE PAPER packed gift box (included)
SIZE - 5" wide 4" tall and 3" deep. It weighs 2.6 LB.
If I order today, when will it arrive?

We offer next-day, second-day, and standard shipping options for all products to USA customers.

Please note that all orders placed after 12:00 CST may not be shipped until the following business day.

Please note that UPS and USPS do not ship on Saturdays or Sundays.