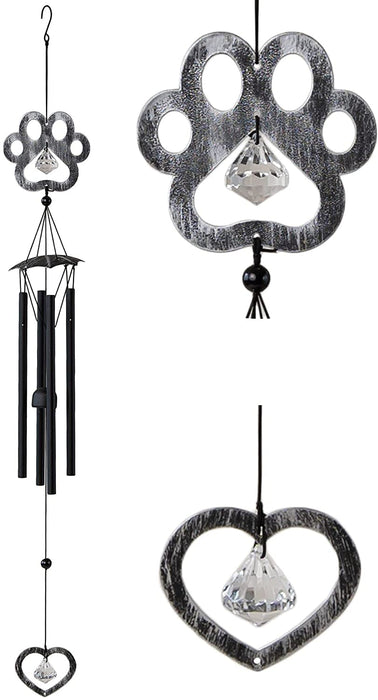 iHeartDogs 'I Hear You in The Wind' Memorial Wind Chime - Pet Loss Gifts
TENDER REMEMBRANCE: Losing a pet is like losing a family member and a pet memorial can be very healing for that loss. Our 'I Hear You In the Wind' Memorial Wind Chime offers a tender reminder of all the love and happiness your pet brought to your life.
BEAUTIFULLY CRAFTED: Our beautifully crafted pet memorial wind chime is made of iron and has two prisms that refract sunlight to paint your surroundings with little rainbows that symbolize how your pet gazes down at you from beyond the rainbow bridge.
SWEET SOUND: Keep the memory of your pet alive every time you hear the sweet sound of our sympathy wind chime. With every gust, let the twinkling sound remind you of all the amazing times you spent together.
FOR DOGS & CATS: Whether you or someone you know has lost a pet, our wind chime makes a special pet loss gift. The paw print design speaks to the imprint that dogs and cats alike leave on our hearts.
If I order today, when will it arrive?
Please note that all orders placed after 12:00 Noon CST may not be shipped until the following business day. 

Customized/personalized products may take 2-3 weeks to be delivered, depending on order demand. Please email ann@petmemoryshop.com for any concerns.

Please note that UPS and USPS do not ship on Saturdays or Sundays if ordered and pick-up by Friday (also applied to expedite shipping).