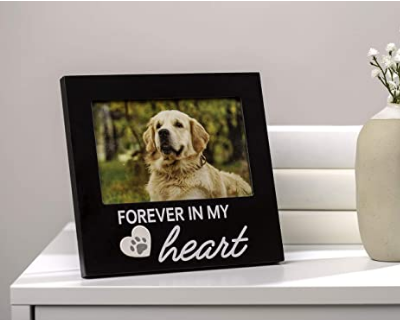 Pet Memorial Keepsake Picture Frame - Forever in My Heart
Color: Black | Gray | Espresso
"forever in my heart" pet memorial frame
The perfect way to celebrate your pet's life and forever cherish their memory.
Then every time you glance over at this sentimental frame, you'll be reminded of all the heartwarming moments you spent together with your beloved companion.
wooden pet memorial frame is the perfect way to celebrate your pet's life and forever cherish their memory. This frame includes the special phrase "forever in my heart" with a white heart and paw print embellishment
This modern sentiment frame includes a Triangle hanger and easel to either hang in your home or place on any tabletop or desk. Simply place your favorite horizontal 4" x 6" photo of your best friend inside this frame and place somewhere for you to always see and cherish
This frame can be used to forever cherish your cat or dog. This frame also makes a great gift for someone who is mourning the loss of their pet
A Forever and lasting tribute to your beloved pet. While your pet might be gone, their memory will forever live on and you can always keep your pet close with Pearhead's pet memorial frame
Product Dimensions: 7.25" W x 6.75" H x .5" D; photo insert: 4" x 6"
If I order today, when will it arrive?
Please note that all orders placed after 12:00 Noon CST may not be shipped until the following business day. 

Customized/personalized products may take 2-3 weeks to be delivered, depending on order demand. Please email ann@petmemoryshop.com for any concerns.

Please note that UPS and USPS do not ship on Saturdays or Sundays if ordered and picked up by Friday (also applied to expedite shipping).