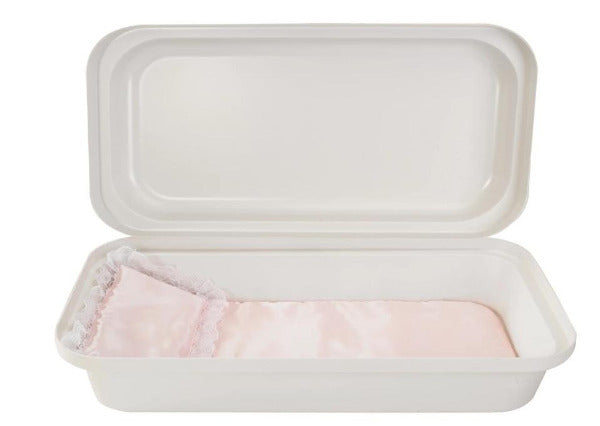 CLASSICAL Series Caskets - 3 Colors, Sizes & Styles
This Pet Memory Shop® pet casket is a cost-effective solution for respectfully sending your beloved companion off to the rainbow bridge.
It is composed of two-piece, high-impact polystyrene material and includes double-sided sealing tape for guaranteed permanent sealing.
Send your pet to the rainbow bridge in a dignified, respectful, loving, and safe manner. Don't allow other animals to access your beloved pet after it is buried.
Create peaceful, lasting, and safe memorial services for your passing pet with the most trusted pet memorial provider.

Pet Memory Shop® Classical Pet Caskets for dogs, cats, and other pets.
The casket contains a laced pillow and a plush mattress made of elegant satin to ensure that your pet is laid to rest in a very respectful manner.
These caskets are NON-BIODEGRADABLE, AIR-TIGHT, and WATER-TIGHT.
They protect against scavengers and eliminate the risk of environmental contamination.

What Our Customers Say
"I was kept informed that the order had been placed and when the order had been shipped if I needed anything else I could contact them. Now, this is what I call customer service."
Luke Vincent
Cataula, GA

Best Quality and the Best Price Online Guaranteed.
SECURE, AND DURABLE. Not your ordinary plastic - will not crack, bend, or break during/after burial.


Rest assured about the safety of your pet's resting place.


The exterior shell is made of two-piece, high-impact polystyrene material for sealing and protection.


Each

 

pet casket

 

includes double-sided adhesive for permanent sealing.


No vaulting is necessary.
Why NON-Biodegradable?

Contrary to popular belief, Biodegradable caskets are not safe. They leave our pets exposed to scavengers.

The toxins in most euthanasia anesthetics are enough to kill other pets or scavengers. Keeping them available on the ground is not safe.

Affordable and inexpensive casket for pets.

Our Pets are family and a plastic bag or hole in the ground doesn't adequately honor or protect our pet's remains.

Size Guide

Small: Inside Dimensions: 18" x 10" x 8", Outside Dimensions: 21" x 13" x 8.5"

Medium: Inside Dimensions: 24" x 12" x 8", Outside Dimensions: 27" x 15" x 9"

Large: Inside Dimensions: 32" x 16" x 11", Outside Dimensions: 36" x 21" x 12"

How do I know which casket size is suitable for my pet?

For length, please measure the distance from the tip of your pet's nose to the base of its tail.

For width, please measure the distance from your pet's knees to the top of its back.

Please measure the distance from the outside of one shoulder to the outside of the opposite shoulder for height.
If I order today, when will it arrive?

We offer next-day and second-day shipping options for Small and Medium and standard shipping for Large caskets to USA customers. 

Check our website for express shipping.

Please note that all orders placed after 12:00 Noon CST may not be shipped until the following business day. Please call (502-603-9276) our warehouse manager to confirm rush orders between 9:00 AM - 5:00 PM CST.

Please note that UPS and USPS do not ship on Saturdays or Sundays if ordered and pick-up by Friday (also applied to expedite shipping).