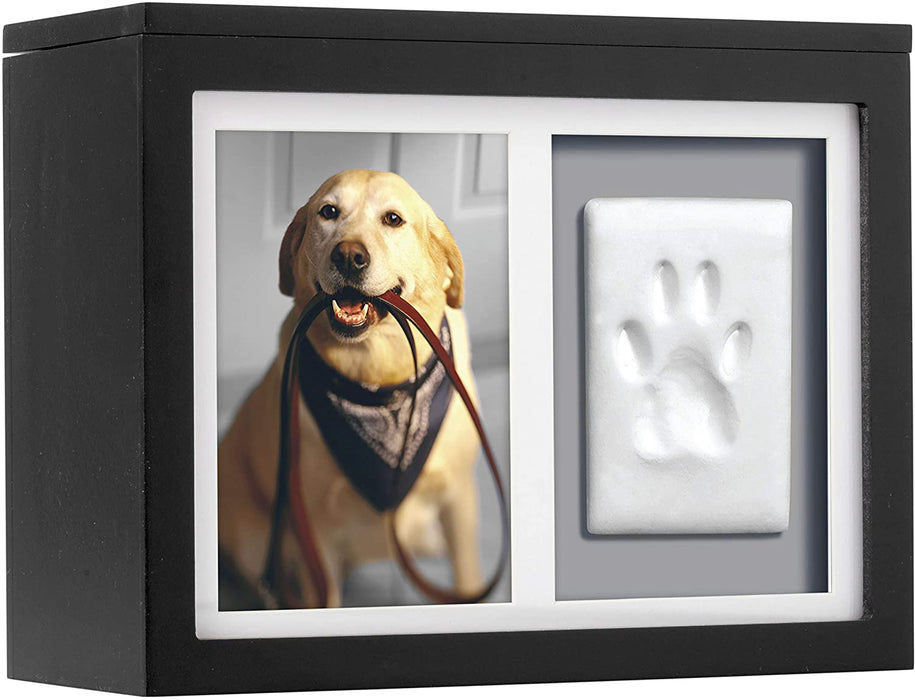 Pearhead Pet Rotating Pet Photo Memory Box and Ink Kit - Clay Paw Print
Pet Memory Box: Black | Espresso | White
Your pet will always be part of the family.
this wooden keepsake box is the perfect way to honor your pet's memory.


Frame your favorite 4" x 6" photo of your best friend to display on the front of the box.



This keepsake memory box can be used as an urn to forever cherish your cat or dog

.


The box includes one package of soft, air-drying clay, a ruler, and double-sided tape. Clay requires no mixing or baking! It's also 100% pet-safe.


Simply knead the clay and roll it out. Press your furry buddy's paw in the clay gently but hard enough to create an impression.


If you make a mistake - no problem!  You can redo it as many times as you need until you get a perfect impression.


Once finished making the print, use the ruler to create a square around the impression. Let dry for 1-2 days and then use the tape to stick to the background board.
This box is also great for placing some of your pet's keepsakes and favorite things inside.
The box is hinged so it can easily open and close. Place this memory box on any bookshelf or table to cherish forever. 
Product dimensions: 10.11" W x 7.87" H x 4.48" D; Photo Insert 4" L x 6" W; Print Opening 4" L x 6" W 
If I order today, when will it arrive?
Please note that all orders placed after 12:00 Noon CST may not be shipped until the following business day. 

Customized/personalized products may take 2-3 weeks to be delivered, depending on order demand. Please email ann@petmemoryshop.com for any concerns.

Please note that UPS and USPS do not ship on Saturdays or Sundays if ordered and picked up by Friday (also applied to expedited shipping).