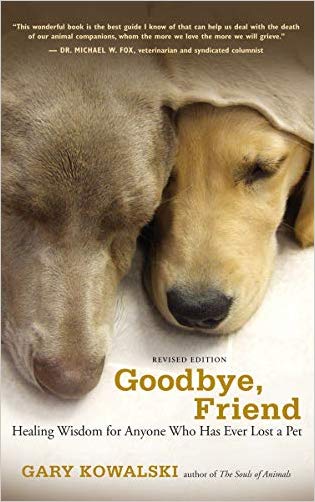 Goodbye, Friend: Healing Wisdom for Anyone Who Has Ever Lost a Pet Paperback
The bond we share with animals is especially pure: one hundred percent love, undiluted and unadulterated.
Because the relationship is so direct and powerful, the grief we experience when our pets die can be profound and intense.
From the moment pets come into our lives, we know the day will arrive when we have to say farewell.
Still, we are never emotionally prepared for the last adieu. In Goodbye, Friend, Gary Kowalski takes you on a journey of healing, offering warmth and sound advice on how to cope with the death of your pet.
Filled with heartwarming stories and practical guidance on such matters as taking care of yourself while mourning, creating rituals to honor your pet's memory, and talking to children about death, Goodbye, Friend is a beautiful and comforting book for anyone grieving the loss of a beloved animal. 
There are no easy recipes for healing. 
There are no quick repairs for an aching heart.
But this route has been traveled before, by poets, philosophers, therapists, and wisdom teachers of all traditions.
Mourning is hard work.
But I will share the guideposts, beacons, and spiritual practices that have helped others on the path toward resolution, healing, acceptance, and peace.  
If I order today, when will it arrive?
Please note that all orders placed after 12:00 Noon CST may not be shipped until the following business day. 

Customized/personalized products may take 2-3 weeks to be delivered, depending on order demand. Please email ann@petmemoryshop.com for any concerns.

Please note that UPS and USPS do not ship on Saturdays or Sundays if ordered and pick-up by Friday (also applied to expedite shipping).