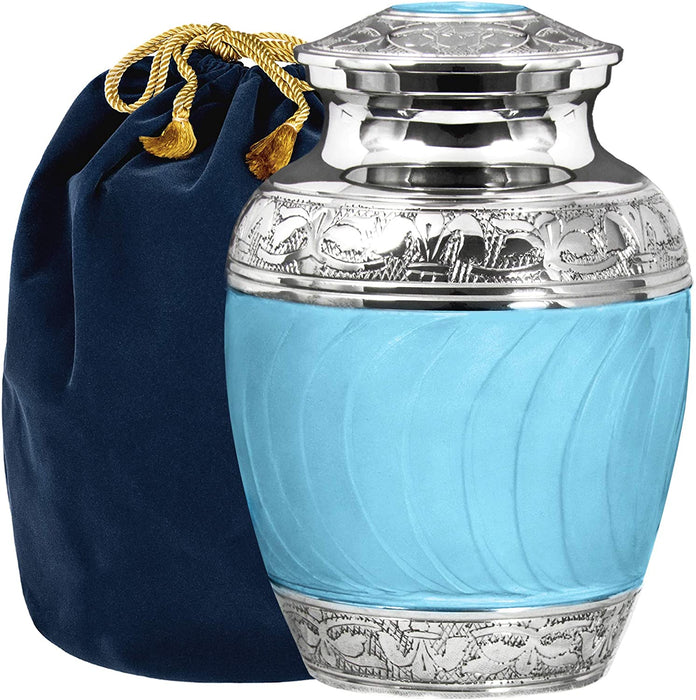 Hugs and Kisses Beautiful Cremation Brass Urn - Keepsake Pet Urns
Color: Blue and Pink
Beautiful Urns For Your Cherished Loved Ones
This Child Urn For Human Ashes is created to be a beautiful tribute to your late loved ones. This is a very comforting and thoughtful way to celebrate and remember the wonderful life your loved ones have lived. You will feel very peaceful as your loved ones remain rest in this beautiful urn.
Beautiful Urns For Loved Ones - This small urn for ashes adult male is created to be a tribute to your late child. This beautiful decorative urn will provide a peaceful resting place for your loved one's remains, bringing comfort to your heart.
Celebrate Life with Lasting Beauty - This decorative urn is 6 inches tall and 4 inches wide and can hold up to 40 lbs of human ashes. It is very solid, and durable and was built to last to make sure that your loved ones are given with utmost respect.
Designed to Bring Comfort and Peace - This cremation urn for adult ashes is hand-finished with warm, comforting colors that will provide a peaceful feeling. Crafted as a respectful tribute to your late loved ones.
Handcrafted with Warmth and Respect - Our medium-sized urns for human ashes for adult features a light pink finish that will warm your heart. Handcrafted with high quality and design, No logos are added out of respect for the urn's sacred purpose.
If I order today, when will it arrive?
Please note that all orders placed after 12:00 Noon CST may not be shipped until the following business day. 

Customized/personalized products may take 2-3 weeks to be delivered, depending on order demand. Please email ann@petmemoryshop.com for any concerns.

Please note that UPS and USPS do not ship on Saturdays or Sundays if ordered and picked up by Friday (also applied to expedited shipping).