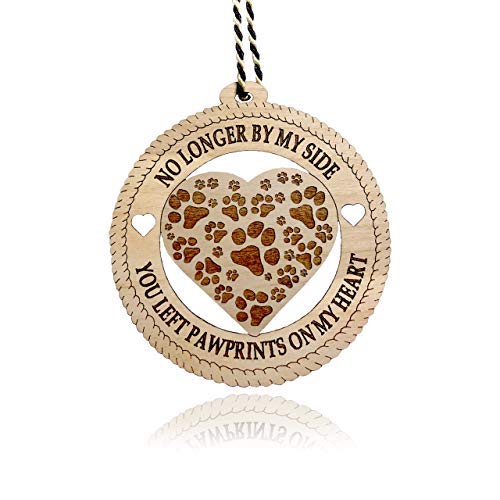 Pet Memorial - Wooden Paw Print Ornaments
Preserve The Precious Memories Of Your Lost Pet!
Looking for a quality-made, original, eye-catching pet loss ornament to honor your furry or feathered friend who passed away? 
Why Choose Our Pet Memorial Sympathy Gifts? Here Are The Top 3 Reasons!
✅ DISTRACT A LOVED PET OWNER FROM HIS SADNESS: The easy-to-read, touching inscriptions on this exquisite pet memorial ornament will comfort the mourners, fill them with hope and optimism and alleviate the sorrow caused by their pet's loss.
✅ HAVE YOUR PET'S PAW PRINTS ALWAYS IN YOUR HEART: When you are feeling down, you can look at this adorable paw print ornament or even hold it in your hands. It is particularly comforting, small enough to bring with you wherever you go.
✅ PERSONALIZE YOUR CHRISTMAS DÉCOR: Hanging from the beautiful cord, this pet memorial gift will remind you of your animal friend during the holidays. 
What You Get:
1 * Pet Loss Gift 3.25" x 3.25" x 0.125
If I order today, when will it arrive?
Please note that all orders placed after 12:00 Noon CST may not be shipped until the following business day. 

Customized/personalized products may take 2-3 weeks to be delivered, depending on order demand. Please email ann@petmemoryshop.com for any concerns.

Please note that UPS and USPS do not ship on Saturdays or Sundays if ordered and pick-up by Friday (also applied to expedite shipping).