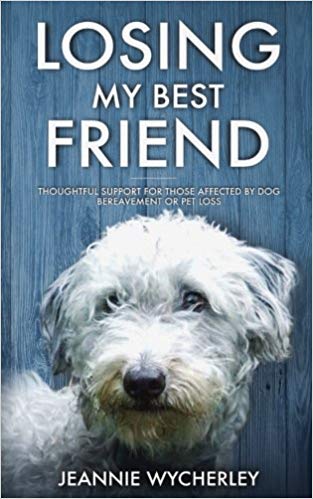 Losing My Best Friend: Thoughtful support for those affected by dog bereavement or pet loss
"Remember me with tears and laughter.
Remember me though it hurts to do so because the pain you have is equal to the love we shared. There is no goodbye if you carry me in your heart.
Remember all the joy we shared because there was so much of it for both of us."

Jeannie Wycherley chose to write this book after the loss of her beloved boy, Herbie, because she was hurt by the repetition of the phrase, "he was just a dog."

She realized that her grief transcended that tired notion - one tritely rolled out by people who think they're being helpful and supportive, failing to realize the guilt and shame many pet owners already experience when they are locked deep in mourning.'
If I order today, when will it arrive?
Please note that all orders placed after 12:00 Noon CST may not be shipped until the following business day. 

Customized/personalized products may take 2-3 weeks to be delivered, depending on order demand. Please email ann@petmemoryshop.com for any concerns.

Please note that UPS and USPS do not ship on Saturdays or Sundays if ordered and pick-up by Friday (also applied to expedite shipping).