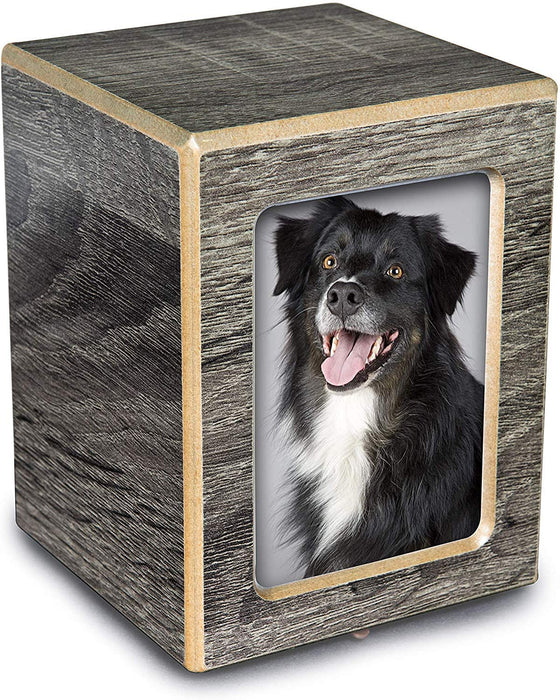 Memorial Box Photo Keepsake Cremation Urn - Small with Photo (up to 46 lbs)
Part of the beautiful, simplistic, and economic Society Collection from Chateau Urns, the small Coastal Gray Photo Keepsake Cremation Urn is designed with quality craftsmanship, dedication, and understanding.

This smaller keepsake urn is perfect for memorializing pets and is also great to give to multiple family members or friends, so a piece of their loved one is with everyone they cared about. Dimensions: 3.1 x 3.1 x 4.7 inches and fits up to 46 lbs (48 cu inches).

Keepsake Size or Pet Size Urn with Photo: This cremation urn can hold the remains of an adult or pet weighing up to 46 lbs.
The smaller size also makes it ideal for keepsakes and mementos or for families who want to separate the ashes of their loved ones.
Features a separate sliding photo slot that allows you to easily switch the photo without having to open the urn.
Urn's Exterior Details: 3.1 x 3.1 x 4.7 in. urn has a matte lacquer finish and a secure bottom panel with four screws. Material Details: This Society Collection urn features MDF wrapped in a coastal gray wood finish.
Urn's Interior Details: The photo keepsake urn features 48 cubic inches inside and is able to accommodate up to 46 lbs.
Customizable: Funerary box urns can be personalized and engraved in memory of your loved one.
If I order today, when will it arrive?
Please note that all orders placed after 12:00 Noon CST may not be shipped until the following business day. 

Customized/personalized products may take 2-3 weeks to be delivered, depending on order demand. Please email ann@petmemoryshop.com for any concerns.

Please note that UPS and USPS do not ship on Saturdays or Sundays if ordered and pick-up by Friday (also applied to expedite shipping).