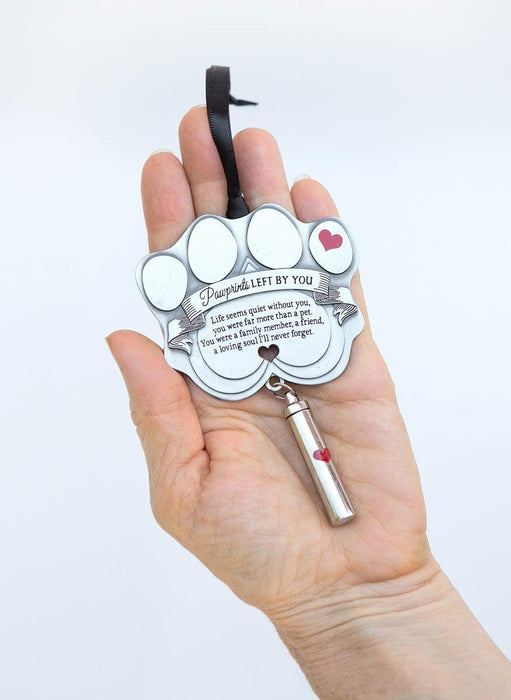 Pet Memorial Ornament - 3" Metal Casted Paw Print Design Ornament
Pet Memorial Ornament - Metal Casted Paw Print Design with Engravable Drop Pendant / Ash Via or Photo Charm


Beautiful Remembrance Gift For a Grieving Pet Owner - Includes "Pawprints Left By You" Poem Card

Pets become loved members of a family and their passing often leaves owners with heavy broken hearts.
At times it becomes difficult to express words of sympathy that will help when grieving the loss of a pet and best friend.
Gift them a wonderful memorial paw print ornament, the sight of it will reassure them about the well being of their darling pet, while healing their heart and mind.
Pawprints Left By You is a beautiful, lasting memorial pet poem for those grieving for a pet that expresses the love and bond between pet and owner.

This 3" metal cast paw print ornament features a black ribbon for hanging, an engravable drop pendant, and a "Pawprints Left By You" Poem card. The sentiment on the ornament reads:

The ornament is boxed in a black gift box (5.25"x7.25") with a clear lid, including the Pawprints Left by You poem card.
The pet memorial ornaments are suitable for inside or outside display and make a touching gift for dog or cat lovers.
If I order today, when will it arrive?
Please note that all orders placed after 12:00 Noon CST may not be shipped until the following business day. 

Customized/personalized products may take 2-3 weeks to be delivered, depending on order demand. Please email ann@petmemoryshop.com for any concerns.

Please note that UPS and USPS do not ship on Saturdays or Sundays if ordered and pick-up by Friday (also applied to expedite shipping).