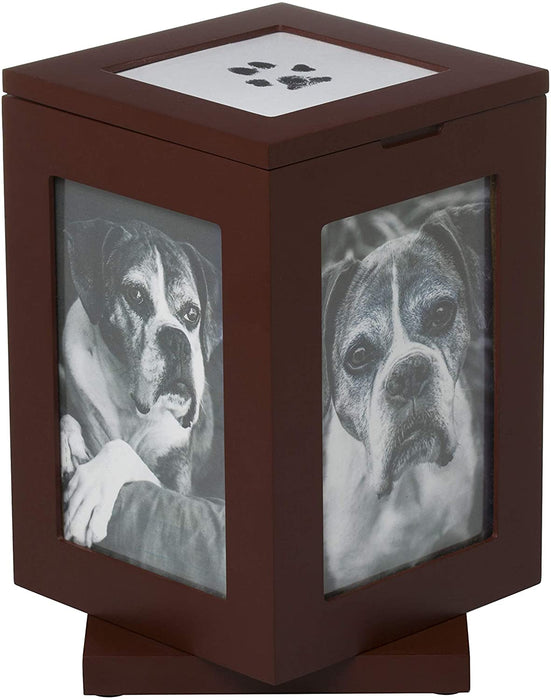 Pearhead Pet Photo Memory Box and Ink Kit - Pet Rotating Urn
With this black, espresso, and white rotating pet memory box, your pet will always be part of the family.
Always and forever cherish their memory with Pearhead's rotating pet memory box.
This wooden box includes one 3.5" x 3.5" slot at the top to display paw print and four 4" x 6" photo inserts around the sides to display your best friend's vertical pictures.

To create an impression, make sure the ink is facing down on the included white card and press your pet's paw onto the clean-touch ink pad.

Your pet's tiny (or big) paw will be left on the card without any ink on them. Let dry for 1-2 days and then place on the top of the rotating memory box.
This keepsake memory box can be used as an urn to forever cherish your cat or dog.
A forever-lasting tribute to your beloved pet; while your pet might be gone, their memory will forever live on and you can always keep your pet close with Pearhead's rotating pet memory box.

Includes: rotating keepsake box, one clean-touch ink pad, and two imprint cards.

The color makes this box fit perfectly with your home décor.

This box can also be used to store some of your favorite keepsakes of your best friend, including their collar.

Product Dimensions: 5.5" W x 8.4" H x 5.5" D; Top Paw Print Insert: 3.5" L x 3.5" W; Photo Inserts: 4" L x 6" W; Will fit pets up to 65 lbs.



If I order today, when will it arrive?
Please note that all orders placed after 12:00 Noon CST may not be shipped until the following business day. 

Customized/personalized products may take 2-3 weeks to be delivered, depending on order demand. Please email ann@petmemoryshop.com for any concerns.

Please note that UPS and USPS do not ship on Saturdays or Sundays if ordered and pick-up by Friday (also applied to expedite shipping).