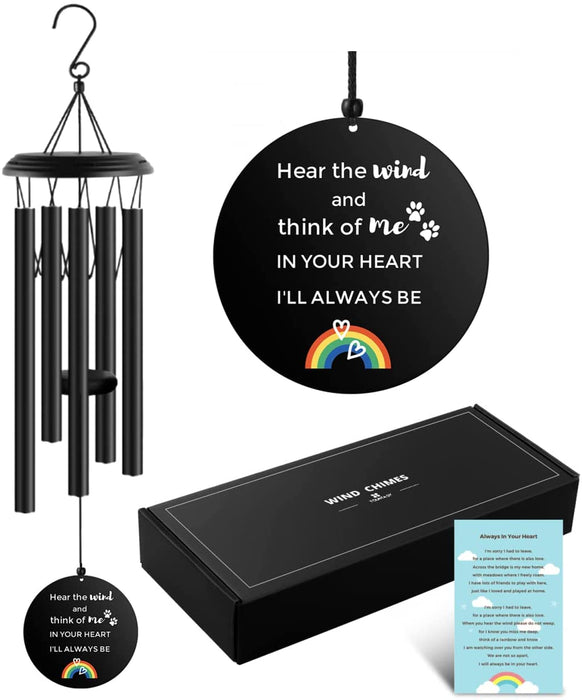 Pet Memorial Wind Chime 35" - Remembrance Gift in Memory of Dog Passing Away
Pet Memorial Gifts 
Overall height from hook top to wind sail bottom measures 35"
It's heartbreaking to see the person close to you, grieving and mourning for furry friends who can't come back. At such a difficult time, we want to do something to help the person get over it, with a final goodbye. And one of the best ways to do it is by showing your care and respect with a comforting, positive gift.
For pet owners, the memorial wind chimes with the idea of the Rainbow Bridge as a source of comfort and support in their time of need. It is believed that The Rainbow Bridge connects this world to the next. With a rich green meadow for dog/cat/furry friends to roam content, healthy, and free.
PERFECT SIZE: Send a pet memorial gift in a good decent size to express your heartfelt sympathy. Dog memorial wind chimes less than 30" are small, and those less than 25" are tiny. The overall height of the dog memorial wind chimes measures 35" (From Hook Top to the very bottom of the Wind Sail) and the 5 aluminum tubes measure from 10.2" to 13.4".
If I order today, when will it arrive?
Please note that all orders placed after 12:00 Noon CST may not be shipped until the following business day. 

Customized/personalized products may take 2-3 weeks to be delivered, depending on order demand. Please email ann@petmemoryshop.com for any concerns.

Please note that UPS and USPS do not ship on Saturdays or Sundays if ordered and pick-up by Friday (also applied to expedite shipping).