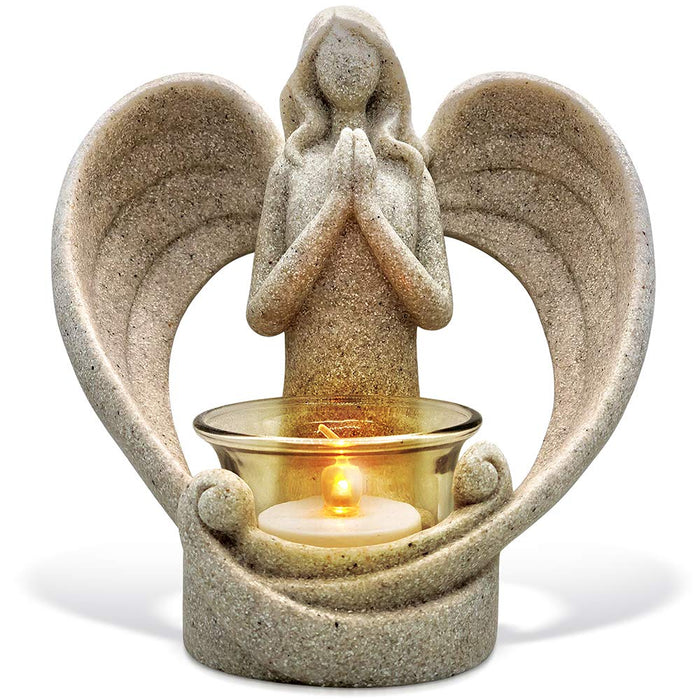 Memorial Gift - Tealight Candle Holder with Flickering Led Candle
Color: White Sand

A Lasting Memorial Gift To Keep The Memory Of Your Loved Ones Alive.

Why send something temporary like funeral flowers as a condolence gift?
When you can choose something that will last the test of time?
We made this angel tealight candle holder to make sure it retains its elegant looks even in the long run.

The angle figure candle holder with folded hands for prayer comes with a battery-operated tealight candle that sways and flickers beautifully like a real candle while giving off a steady warm light.
Unlike normal candles, you don't have to worry about changing used candles, or have no worries about the open fire in the house.

More Features & Benefits
- Makes a meaningful memorial gift that is both cost-friendly and ideal for long-term use
- The tealight candle provides hours of light time on a battery (included).
- A super elegant piece of décor, so you can use it as a keepsake in any room of your home.
- In case you missed the funeral, you can send it as a condolence gift that comes in nice packaging and a condolence card already inside, directly to your friend or relative's home.

Package Includes:
1 x Angel Figurine Candle Holder
1 x Tealight Glass Candle Holder
1 x Flickering Tealight Led Candle
1 x Condolence card


If I order today, when will it arrive?
Please note that all orders placed after 12:00 Noon CST may not be shipped until the following business day. 

Customized/personalized products may take 2-3 weeks to be delivered, depending on order demand. Please email ann@petmemoryshop.com for any concerns.

Please note that UPS and USPS do not ship on Saturdays or Sundays if ordered and pick-up by Friday (also applied to expedite shipping).