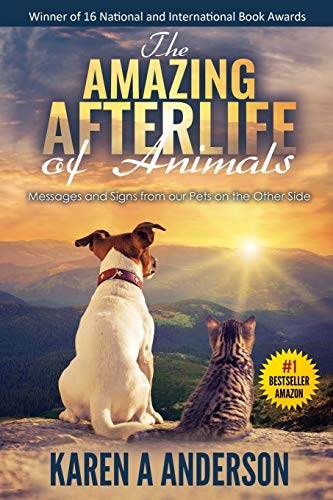 The Amazing Afterlife of Animals: Messages and Signs From Our Pets On The Other Side
If you are grieving the loss of your beloved pet the uplifting and insightful stories within these chapters will help you break through your grief so you can begin healing. Included are actual messages from departed animals who share details about what they experienced as their life ended and from beyond the veil of the afterlife. 
"A beautifully insightful look at the afterlife..."
Karen Anderson has successfully captivated us again with this new and beautifully insightful look at the afterlife. She shares in vivid detail what our pets are thinking and feeling as they arrive at, and settle into the Other Side.  This book is sure to capture your heart and soul as Karen takes you on a wonder-filled spiritual journey.  Her detailed images and heartwarming stories bring much-needed healing to all of us who have ever loved and lost, 
a beloved animal companion.
Annie Kagan, author of the international bestselling book, 
The Afterlife of Billy Fingers: How My Bad-Boy Brother Proved to Me 
There's Life After Death.
If I order today, when will it arrive?
Please note that all orders placed after 12:00 Noon CST may not be shipped until the following business day. 

Customized/personalized products may take 2-3 weeks to be delivered, depending on order demand. Please email ann@petmemoryshop.com for any concerns.

Please note that UPS and USPS do not ship on Saturdays or Sundays if ordered and pick-up by Friday (also applied to expedite shipping).