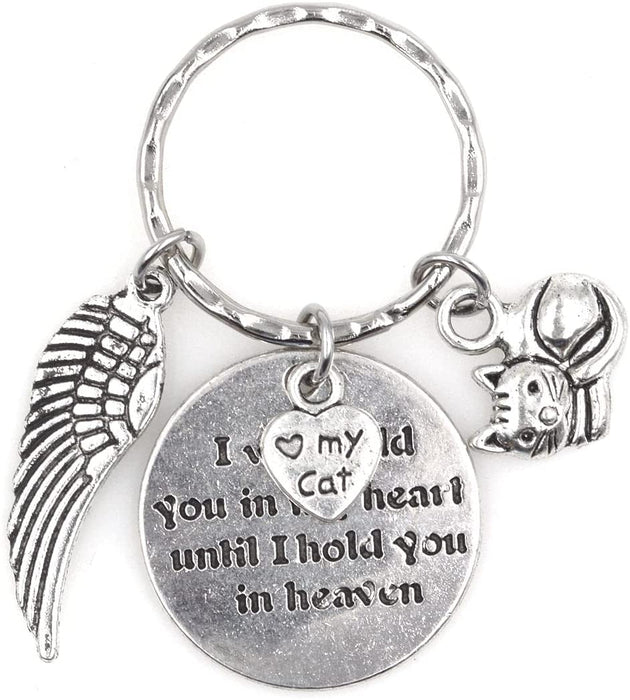 Pet Memorial Sympathy Loss of Loved One Kitty Cat Keychain
You are always in my heart conveys many different meanings.
Some meanings include: you're always with me in my mind, heart, and soul, you'll never be forgotten, and I'll always care about you even when you're not here.
This keychain is perfect for giving a small, thoughtful gift to a friend or family member struggling through a difficult time who just needs a reminder that someone is there for them, for a going away or moving gift, or just to express your love and affection.
You are always in my heart is also the perfect saying for a memorial, sympathy, bereavement, condolence, loss of a loved one, or in memory of the gift.
This can be given as a keepsake or remembrance gift for yourself or someone else who has lost a child, a family member, a sibling, a parent, a grandchild, a niece or nephew who lost their aunt or uncle, or to remember the passing of a beloved, honored, and special friend.
Charm Size: You are always in my heart charm: 20mm x 21mm
Quantity: One keychain packaged on an "It's All About…You!" display card.
Multiple Gifting Possibilities - You could give this keychain as-is, attach the charms onto a charm bracelet or necklace, hook the ring to a gift bag to use as a bag charm, or hook it to the zipper of another gift to use as a zipper pull.
If I order today, when will it arrive?
Please note that all orders placed after 12:00 Noon CST may not be shipped until the following business day. 

Customized/personalized products may take 2-3 weeks to be delivered, depending on order demand. Please email ann@petmemoryshop.com for any concerns.

Please note that UPS and USPS do not ship on Saturdays or Sundays if ordered and pick-up by Friday (also applied to expedite shipping).